As a full-service site-preparation company in the Raleigh area, OnSite Resources is committed to providing a comprehensive selection of hardscaping services to meet all your residential construction needs. We understand how important it is to make sure your Raleigh, NC home exterior and outdoor space is attractive and has curb appeal, which is why we specialize in stone veneer installation.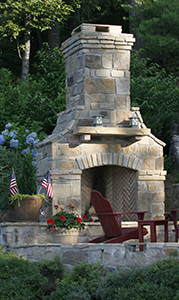 Stone veneer is the use of thin, natural stones to cover a structure for indoor or outdoor decorative or protective purposes. There are many reasons our customers choose stone veneers over other hardscaping options:
They give a home's exterior a whole new look and feel
They are more affordable, requiring less expensive materials and labor because they are only applied to the surface of structures
They can be applied to existing structures without the cost of replacing a structure
Multi-Purpose Stone Veneers in Your Raleigh-Durham Home
The great thing about stone veneers is their versatility. They are a multi-purpose hardscaping material that can be applied to many different surfaces both inside and outside of your home. Stone veneers can improve both the style and structure of the following surfaces:
Home Exteriors
Outdoor Steps & Stairs
Walls & Dividers
Outdoor Fireplaces
Indoor Fireplaces
Fire Pits
Whether you are looking to spice up the look of your outdoor fire pit or your garden's retaining walls, OnSite Resources offers a variety of stone veneer options that match our customers unique tastes and styles. To learn more about the types of stone veneer options we offer, please contact our office at (919) 266-4479. We look forward to meeting all of your residential site-preparation needs!
OnSite Resources is proud to provide stone veneer installations and constructions to customers in Raleigh, Knightdale, Durham, Chapel Hill, Cary, Morrisville, Wake Forest, Apex, Garner and surrounding NC areas.