One of the most difficult tasks in preparing a residential building for construction is basement excavation. With more than 25 years of experience in the construction site-preparation industry, OnSite Resources is the company customers across the Triangle trust for all of their residential construction needs.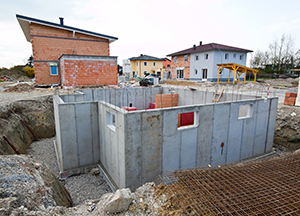 While basement excavation can be done by hand, there are numerous risks involved. Excavating under a building can be tricky. The structure needs to be supported during the excavation to avoid compromise to the structural integrity, which could make it unsafe. You also need to provide an area to store excavated materials, usually with the goal of eventually hauling them away. It is also possible to encounter unexpected hazards such as mold or mildew. That is why this labor-intensive project is best left up to a Raleigh contractor that has extensive knowledge and expertise in excavation services.
Residential Basement Excavation Process
Basement excavation requires planning and careful execution. OnSite Resources has a step-by-step process that we follow for every Raleigh residential basement excavation:
1. The vacant site of land must first be evaluated
2. Find the proposed elevation of the basement floor and locate the water and sewer service station
3. The sewer, water and sump (storm water discharge) lines are excavated in a trench and installed in the new home
4. The hole for the basement foundation is then dug with an excavator
5. Then begins the basement foundation preparation
To experience the highest quality of basement excavation and residential site-preparation services in the Triangle, contact OnSite Resources. Make an appointment with one of our representatives and we will get back to you as soon as possible.
OnSite Resources proudly serves homeowners and home builders in Raleigh, Knightdale, Durham, Chapel Hill, Cary, Morrisville, Wake Forest, Apex, Garner and surrounding NC areas.